Our Mission
WE CELEBRATE STUDENTS AND TEACHERS!
Our mission is to inspire learning and enhance teaching.
Students are our future, and our future is bright! During the 2021 school year, we recognized four student champions and administered more than $60,000 in scholarships. Investing in those who teach is vital, too. More than $27,000 was granted during the year for innovative projects and other specific needs related to promoting and sustaining student achievement, and $20,000 more was gifted to teachers and staff in recognition of their excellent work. We salute students, teachers, staff, administrators and families for their resilience always — and this year particularly.
Our Mission
We're pulling together in 2023
Our students are eager to learn and our educators are eager to teach, even when it is more challenging than ever. Students, families, neighbors and friends still need food and essentials to help them make it through the current crisis. We're working every day to ensure that children in Lawrence have what they need to be successful in school. Thank you for making this possible!
11,609

students and

1,850

district educators and staff were impacted 

by Lawrence Schools Foundation during the 2021-2022 school year

36%

of Lawrence students are enrolled in Free and Reduced-Price Lunch Program

1,500+

Free Backpacks and school supplies were provided to our students and Lawrence Public Schools through our 2022 Back2School Drive

10,109

in direct support of urgent and immediate needs of our students and families was provided from our I.C.A.N. Funds

70

scholarships totaling

$58,000+

were awarded to graduating seniors in 2022

$22,697+

in grant funding was provided to educators in 2022

$50,000+ was provided for lowering barriers to post-secondary opportunities, Education to USD497 students/parents of marginalized populations in financial literacy, Professional Development and culture & climate, staff recruitment and retention.
 
Dena Johnston
Dena Johnston has been the Executive Director of the Lawrence Schools Foundation since January, 2016. The Holton, Kan. native spends most of her time driving her "mom taxi" and is the biggest fan to her three children Bentley, Braycen and Skyler. When she isn't working or chasing her kids around, Dena enjoys cooking, cheering on her K-State Wildcats, traveling, being active in the community and organizing (yes, this is a hobby!).
"What I have enjoyed most about my experiences within the Foundation is seeing all of the amazing ideas and impactful contributions being developed in the Lawrence community," she said. "I have not only been inspired for my future, but provided with a friendly reminder of what first sparked my passion for nonprofit work."
Fun Fact: Dena once opened a Vanilla Ice concert as a backup dancer.
djohnsto@usd497.org
785-330-1941

Jamie Sinclair
Jamie Sinclair began working at the Foundation in 2011 and is the coordinator of the Lawrence Schools Foundation and Lawrence Education Achievement Partners (LEAP). A Lawrence native, she and her husband Jason have three children Logan, Lauren and Piper.
She and her family are avid Jayhawks fans and enjoys spending time at The Lake of the Ozarks with her family in the summer.
"My favorite thing about the Foundation is working with my awesome co-workers and I am sure they feel the same," she said. "It feels like we work for the prize patrol being able to give out grants, awards and scholarships to the students and teachers. Our community business partners are so generous with their time and resources, whether it is speaking in a classroom or donating straws for science projects, they step in and help support our schools."
Fun Fact: Jamie has a blue belt in Tae Kwon Do, but being only 4' 10 ½" tall, she is not sure
how much of an effect it would have.
jsinclai@usd497.org
785-330-1854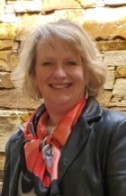 Michelle Jennings
Michelle Jennings joined the LSF staff in 2020 as a Bookkeeper. Michelle has a BA in English/Speech Education from Washburn University. She retired from being a commercial lender at Central Bank of the Midwest this past summer; however, before working at the bank, she taught English at Free State High School. All four of her children, and her husband Tom, are Lawrence High School graduates. Her education background, and her experience in finance, make a great combination for the Foundation.
Michelle's favorite pastime is playing with her grandsons, Lincoln and Finn. She loves to travel, knit and cross stitch, and read mystery/suspense novels. She is an avid professional football and college basketball fan.
"My favorite thing about the Foundation is being able to help both teachers and students. Dena and Jamie are great to work with, and they keep the Foundation connected to our school community's needs. It is so rewarding to see how our Lawrence community comes together to support our kids and our teachers."
Fun Fact: I'm a NASCAR fan, and my favorite driver is Chase Elliot.
michelle.jennings@usd497.org
785-330-1726
2023 BOARD OF DIRECTORS
President –

Sandra Gautt, Retired / University of Kansas
Past President –
Jennifer Berquist, Kansas Athletics
Vice President –
Rob Gillespie, Commerce Bank
Secretary – Mindy Collmeyer, Kyndryl

Treasurer – Annie Myers,
Feldmeyer Financial
Chris Anderson, University of Kansas                                                                              Zak Bolick, Laird Noller Dealerships
Mindy Collmeyer, Kyndryl
Susan Cooper, Lawrence Public Schools
Anne Costello, Payless Shoes                                                                                            Julie Dunlap, Writer/Producer                                                                                            Audra Fussell, Truity Credit Union                                                                                  Patrick Kelly, Lawrence Public Schools
Scott Kimzey, McCownGordon Construction                                                                        Martin Moore, Advanco Inc.                                                                                                Allison Vance Moore, Colliers
Robin Ward, The Write Design                                                                                              Kate White, CEK Insurance
EX-OFFICIO MEMBERS
Erica Hill, Lawrence Board of Education
Hugh Carter, Lawrence Chamber of Commerce
Dr. Anthony Lewis, Superintendent, Lawrence Public Schools
JOIN US!
To Apply: If you are interested in exploring a board membership role with the Lawrence Schools Foundation,
we encourage you to apply by submitting your resume and a letter or email detailing your interest and how you hope to contribute to the Foundation to: djohnsto@usd497.org
Questions directed to Dena Johnston, Exeuctive Director,
are also welcomed prior to submitting an application.
A Message From
Our Director
While our year might not have been anything we expected, we're always willing to rise to the challenge to ensure students, teachers and staff are supported. Just like our teachers and administrators, students and families, the Lawrence Schools Foundation took on things we've never tackled before. Yet, while we've done a bunch of new things this year, we still provided innovative teaching grants, even adding a second application timeframe to provide more flexibility for teachers to apply. We also provided $58,000 in scholarships to students continuing their education in a very different world than when they started their senior year.

We are so proud of our resilient administrators, teachers and staff for stepping up to the challenge of shifting their teaching methods in an unprecedented way. We believe our schools are the cornerstone of our special community. We are truly thankful for all the families, business owners, public officials and, of course, district leaders and educators, who provide hope during these tough times. Thank you for continuing to support the Foundation and we look forward to brighter times ahead.
Dena Johnston, Executive Director
Get In Touch
Location: 110 McDonald Drive Lawrence KS 66044
Telephone: (785) 330-1941
Email: djohnsto@usd497.org